Puppies Currently Available
We currently have puppies available for adoption that will be ready for placement in homes on the 13th of July. For further information about our screening and purchasing process please email us through the "Contact Us" page our call us at 705-325-0490.
Show Results 2017
Ontario Breeders March 4, 2017

Pyrvalley's Looks Like Athena won winners bitch at the Ontario Breeder's Association Saturday show in Lindsay last weekend and earned 2 more points toward her Canadian Championship. One more point to go to acquire her championship title. Pyrvalley's Maximum Impact won Best of Breed and is now close to earning his Grand Championship.
Scarborough Kennel Club March 11, 2017
Pyrvalley's Looks Like Athena won winners bitch and best of breed today and is now a new Canadian Champion. Her brother Pyrvalley's Maximum Impact was beaten by his younger sister and was best of opposite sex.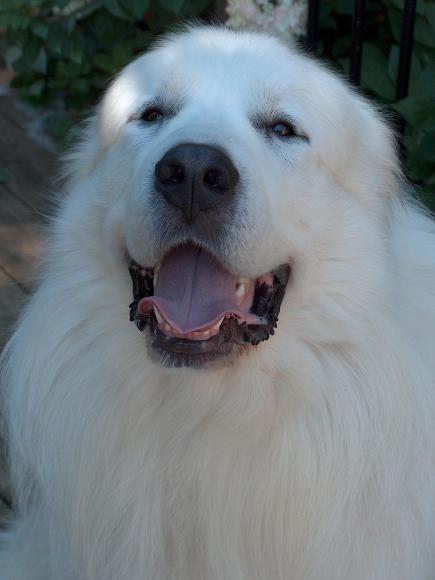 Ch. PyrValley's Maximum Impact

About Us
We are a small family kennel registered with the Canadian Kennel Club. We became proud owners of three Great Pyrenees in 1990 and fell in love with the breed. Consequently, we have never been without one of these majestic animals over the past twenty-five years.

We are located on forty-seven acres of land close to the city of Orillia, Ontario, Canada, which is approximately 100 miles north of Toronto.

In addition to our Great Pyrenees dogs, we make maple syrup and birch syrup for the local market during the February to April spring season. This year we hope to have a limited inventory of pure Canadian maple syrup for sale through this website.

Our Dogs

We currently have six Great Pyrenees in our family, two boys and four girls. Thunder (Ch Aragon's Blinded by the Light) is our eldest male at eight years and he was retired from the show ring after earning his CKC Canadian Championship. His son Max (Ch PyrValley's Maximum Impact) is six years old and he continues his show career where he is currently working on earning his grand championship. His sister Eden (PyrValley's Eden's Envy) especially enjoys attending dogs shows and continues on her quest toward her championship. Odyssey (Ch Olympe's Odyssey of Glenire) is the oldest of our crew at eight years of age. Odyssey had her first litter of puppies in 2010 and had her last litter in July 2015 from which we have retained one little girl (Pyrvalley's looks like Athena). Odyssey has now been retired from motherhood and spends her time ruling over the rest of the family. We also have an another female (Pyrvalley's Sonata in G (Sunny) who is now two and who we started to show in late 2016.