Puppies Planned for Spring or Summer 2019
Posted Friday September 7, 2018
Sorry to say but we no longer have puppies available for adoption from our Athena by Astaire litter. Our last two boys are safely in their new homes.Nevertheless we are planning a litter for next spring or early summer (2019) and will be taking reservations and deposits from potential buyers later in the fall and early winter.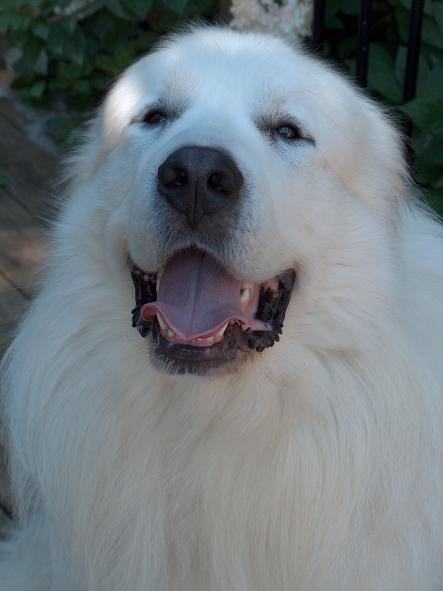 Grand Champion PyrValley's Maximum Impact
About
Us
Pyrvalley is a small family kennel registered with the Canadian Kennel Club. We became proud owners of three Great Pyrenees in 1990 and fell in love with the breed. Consequently, we have never been without one of these majestic animals over the past twenty-eight years.We are located on forty-seven acres of land close to the city of Orillia, Ontario, Canada, which is approximately 100 miles north of Toronto.
In addition to our Great Pyrenees dogs, we make maple syrup and birch syrup for the local market during the February to April spring season.
Our Dogs
We currently have seven Great Pyrenees in our family, two boys and five girls. Thunder (Ch Aragon's Blinded by the Light) is our eldest male at nine years and he was retired from the show ring after earning his CKC Canadian Championship. His son Max (Grand Ch PyrValley's Maximum Impact) is seven years old and he continues his show career just for fun. His sister Eden (PyrValley's Eden's Envy) especially enjoys attending dogs shows and continues on her quest toward her championship. Eden has had two litters of puppies and is enjoying her retirement from child rearing. Odyssey (Ch Olympe's Odyssey of Glenire) is the oldest of our crew at nine years of age. Odyssey had her first litter of puppies in 2010 and had her last litter in July 2015 from which we have retained one little girl (Ch Pyrvalley's looks like Athena). Odyssey has now been retired from motherhood and spends her time ruling over the rest of the family and adorning our couch. Athena earned her Canadian Championship over a short period of time and we hope she will become a Grand Champion over the next several years. Eden's daughter Pyrvalley's Sonata in G (Sunny) who is now three, started to show in late 2016 and continues toward her championship. Sunny had his first litter of puppies last spring. Finally, Pyrvalley's Prima Donna Ya Say (Georgia), is the only puppy from Eden's second and final litter. Georgia started her show career at 12 weeks of age.